Buttermilk Bars are a vanilla-infused classic craggy Old Fashioned Cake Donut minus the hole…so you get to eat the whole delicious donut!
Last week a friend, who is from California, just like me…posted a photo on Facebook of a "Buttermilk Bar" donut that her sister brought back for her! If driving from California to Utah with a donut on your lap is not sisterly love… I don't know what is! (Like seriously…is that not true love!)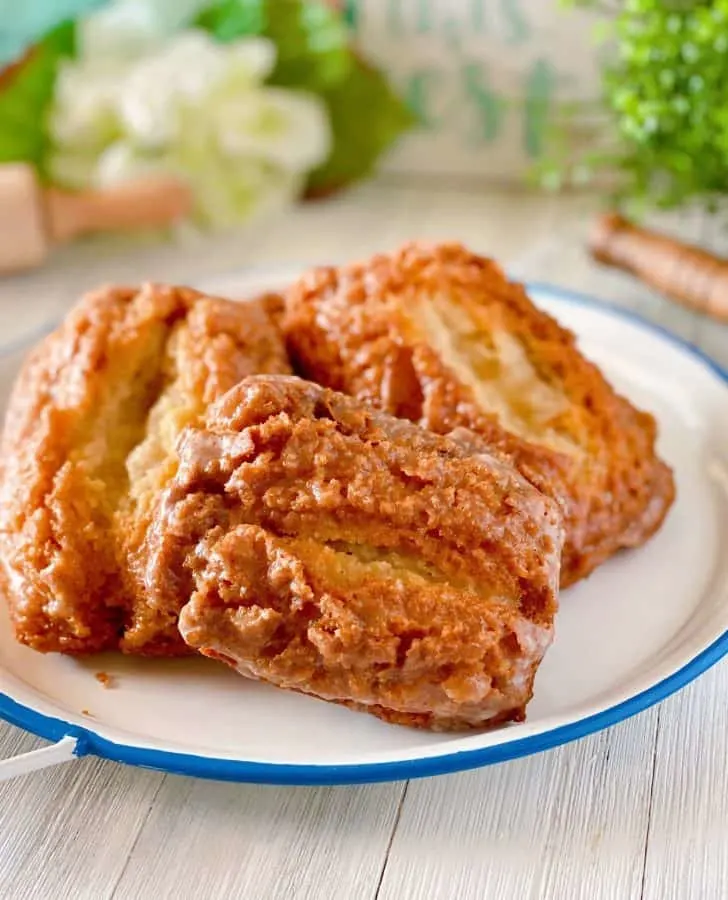 That photo filled my mind with happy memories! Memories of early morning donut runs before school at the local donut stop! (It was actually called "The Donut Stop"…go figure!) My favorite was the Buttermilk Bar. A vanilla-infused classic old-fashioned doughnut without the hole…just one big glorious bar of Yum! (Big enough to share…but I'm not that good at sharing! Not when it comes to my carbs!)
Suddenly I had an absurd craving for a buttermilk bar doughnut! (That's how I roll…see a carb…want a carb! I'm every advertiser's dream!) There was only one problem… I've never found an old-fashioned cake donut recipe I liked. Somehow I just couldn't find that perfect recipe. One that fried up with that glorious craggy cake donut top in the donut shop!
I'm not one to give up, so I did a lot of research and came up with the most amazing Buttermilk Bar Recipe! Let's discuss a few tips before you begin.
Tips for making the Perfect Buttermilk Bar Donuts
Frying: You can use regular vegetable oil, but for the perfect Buttermilk Donuts, I recommend using melted Crisco Shortening. The donuts absorb less oil from Crisco than vegetable oil. They will also stay fresher longer. So, if possible use Shortening in place of vegetable oil. It's a little more costly, but well worth it. Oil temperature is EVERYTHING when frying donuts! Too hot they'll burn on the outside and remain doughy on the inside. Too cold and they become oil soaked. So make sure you have a thermometer and constantly check the temperature during frying. A temp of 330°-350° is the sweet spot for frying donuts.
Dough: This dough is very "sticky"! Chilling the dough 30 – 60 minutes is imperative to the success of this recipe. Do not over handle the dough. Over handling the dough will result in a tough donut rather than a light tender donut.
Continue Reading in next page