Crockpot Beef Stew is easy, hearty, comforting and SO good you won't be able to stop at just one bowl! You will be amazed at the luxurious thick gravy broth (no watery broth here!) and the buttery tender beef. This Slow Cooker Beef Stew is the perfect make-ahead dinner, reheats beautifully and you can double the recipe for a crowd. I've included tips and tricks, how to make ahead, how to freeze and more!
CROCKPOT BEEF STEW
This Crockpot Beef Stew joins the ranks of my other favorite slow cooker beef recipes: Slow Cooker Beef Brisket, Beef Stroganoff, Beef Tips and Gravy, Italian Beef, Mississippi Pot Roast and French Dips, In each recipe, the meat emerges melt-in-your mouth tender, richly satisfying and infused with epic flavor from cooking in its spiced bath all day. It might just be the longest day of your life.
But this Crockpot Beef Stew is SO worth the wait with its juicy beef and fork-tender vegetables smothered in luscious, perfectly seasoned gravy broth. It is an old comforting classic waiting to become a new family favorite! So, prepare to fall in love with this Slow Cooker Beef Stew recipe.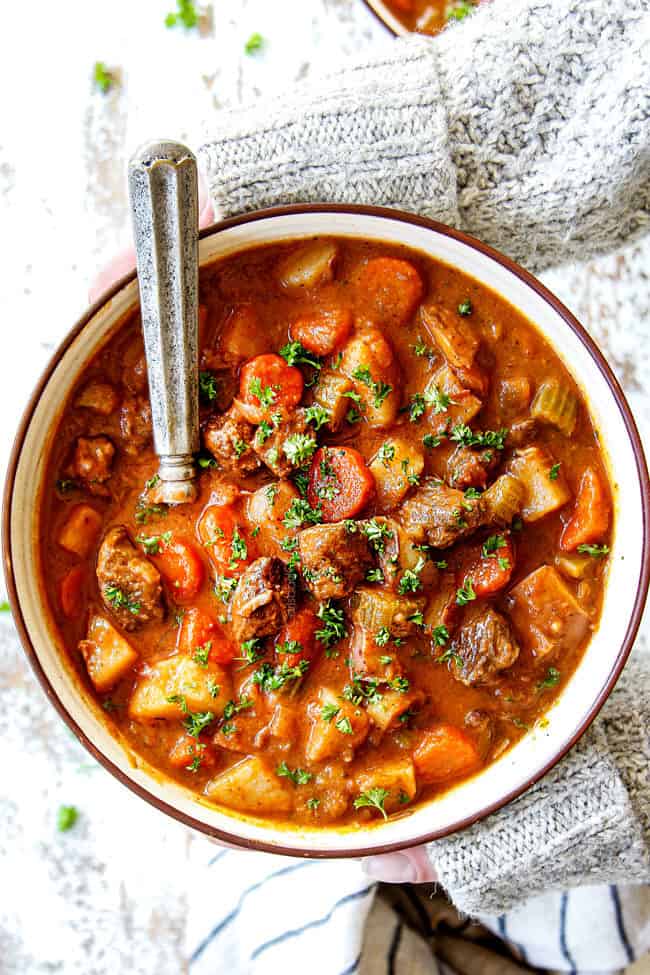 WHY WE LOVE THIS CROCK POT BEEF STEW RECIPE!
Crockpot does the work. This Slow Cooker Beef Stew combines my favorite ways to make an EASY meal – soup and the slow cooker! The most time-consuming part of this soup is the chopping of your carrots, celery, potatoes, onions and garlic. But, it's easy and mindless and a perfect way to put your kids to work. I loved helping my mom prep her stew – especially because I knew the deliciousness that was on the other end.
Thick gravy broth. The silkiness and flavor of the Beef Gravy Broth is what makes this Crockpot Beef Stew the "Best" in my opinion. Not only is it lusciously thick, but the combination of crushed tomatoes, beef consommé, beef broth, soy sauce, Dijon mustard and the bevy of hand-picked spices: paprika, oregano, thyme and cumin, infuse the beef and vegetables with flavor as they simmer all day, filling your home with the savory aroma of anticipation.
Crowd pleaser. There simply isn't anything more comforting than a big bowl of hearty beef stew drowning in luscious beef and tomato-infused sauce. It's like a warm blanket that warms you from the inside out with every heaping slurpful. Even your pickiest eater will be clamoring for more beef stew!
Meal-in-one. This Crockpot Beef Stew is loaded with beef and veggies so it's a meal-in-one all made in your crockpot! You can skip the sides all together because it is stand-alone worthy or serve it with no-fuss sides like a simple green salad and bread.
Makes a large quantity. This easy Crockpot Beef Stew makes a hearty crockpot full so its perfect for large crowds, dinner parties or company.
Less Expensive. a crockpot full of beef stew feeds the whole family with some tantalizing leftovers to spare at the fraction of the price of dining out.
Make Ahead. Crockpot Beef Stew can be started in the morning and then welcome your bellies at night OR it can be made days in advance and reheated because it tastes even better the next day!
Freezer friendly. You can freeze Slow Cooker Beef Stew and pull it out for busy nights ahead!
Continue Reading in next page