These dark chocolate overnight oats are a heart-healthy way to start your day! They're vegan, gluten-free and naturally sweetened. They taste like dessert as well!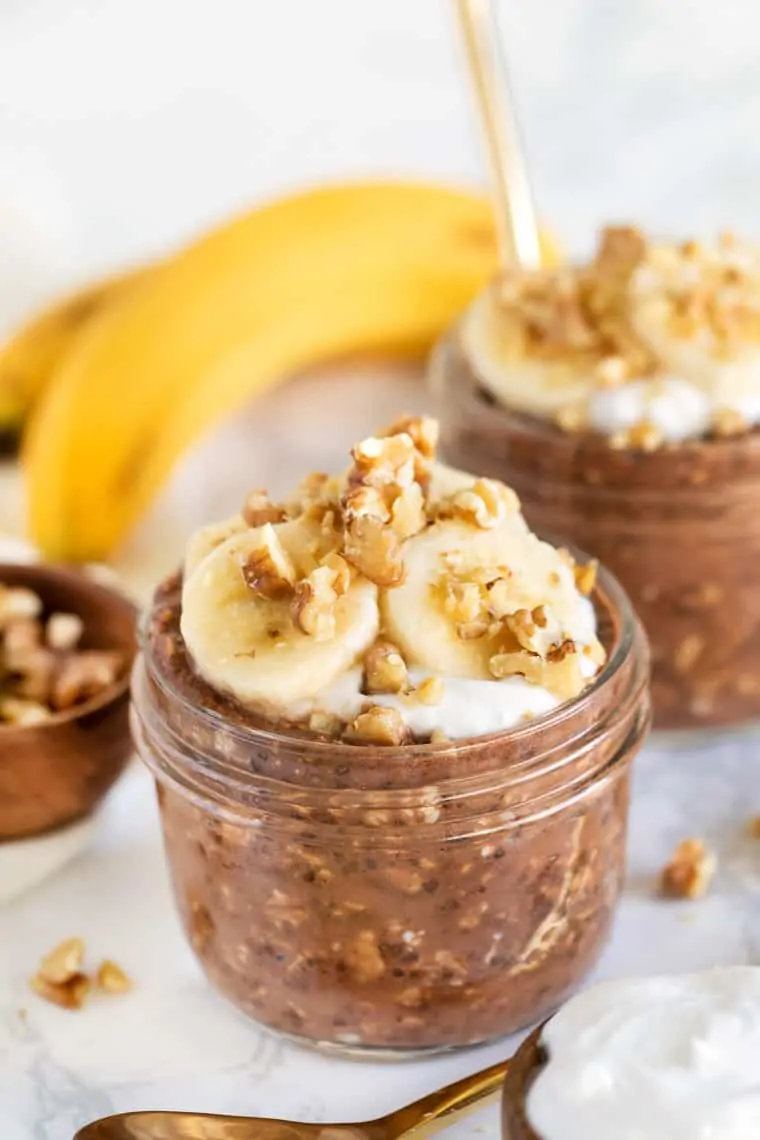 Here's what you'll find inside these little bowls of deliciousness: Be sure to scroll down to the recipe card for specific amounts.
Rolled oats: I find that rolled oats work best in overnight oats as they are thick enough to soak up some of the liquid, but they still retain their shape and texture.
Banana: I wanted to cut down on added sugars as much as possible in this recipe, so we're relying on bananas to help us out with the sweetness. Aside from sweetness, bananas also add fiber (3g per medium banana) and potassium (420mg per medium banana)!
Chia seeds: these help to absorb some of the liquid and thicken the overnight oats up a bit. Chia seeds also add protein (5g/oz) and good fats (5g/oz omega-3 ALA) as well!
Cacao powder: because I know we all love chocolate, we're adding just a bit of cacao powder for the flavor! If you don't have cacao powder, you can also use unsweetened cocoa powder.
Maple syrup: when tested without a touch of maple syrup, the chocolate flavor was a bit too bitter for me, but all we need is a touch to make a difference. If you find the banana is enough, feel free to leave this out!
Milk: depending on your dietary needs, you can use whatever type of milk that works best for you. I personally used walnut milk here, but 1% would also work well if dairy is okay for you!
Walnuts: and finally…our walnuts! In this recipe, they're bringing a much-needed crunch, as well as adding fiber (2g/oz), protein (4g/oz), and good fats (2.5g/oz omega-3 ALA)!

Continue reading in next page