Now, let me preface this by saying I know absolutely nothing about making pudding cakes — chocolate, lemon, buttermilk, whatever — but this cake was like none I had made before, including its dainty, molten soft chocolate kin.
The process starts off familiarly: wet ingredients (buttermilk, vanilla, melted chocolate and butter) get stirred into dry ingredients (flour, brown sugar, salt and leavenings), chocolate chips are folded in, and after everything is mixed together, the batter gets spread into a 9×13-inch pan.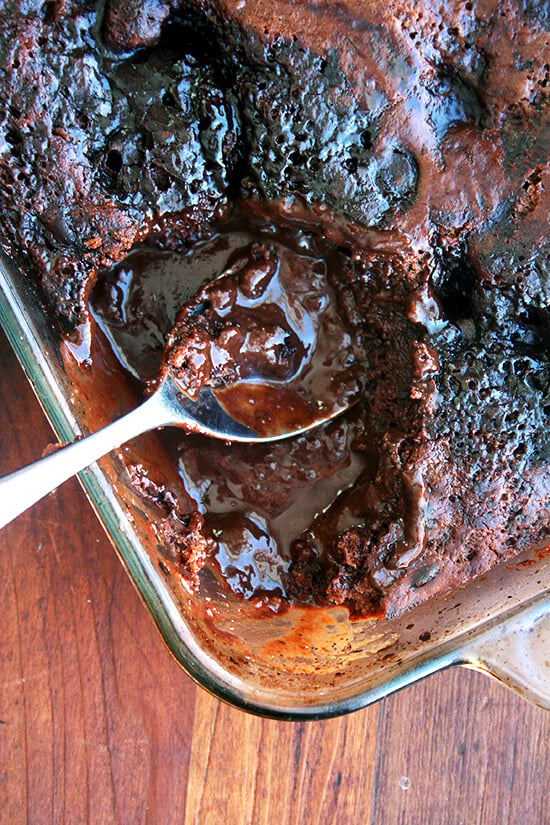 But then the assembly takes a wild turn. After the batter is covered by a blanket of brown sugar and cocoa powder (which ultimately become the pudding), 2.5 cups of boiling water get poured overtop. As the water meets this sandy layer, plumes of cocoa rise and swirl, and when the cake begins looking like a Breaking Bad set prop, you'll need some encouragement. Katzen offers it: "It will look terrible, and you will not believe you are actually doing this, but try to persevere."
In the oven, the pudding layer sinks to the bottom and the cake rises to the top, emerging with a surface dimpled with deep fudgy craters. When inverted into serving bowls, the built-in fudge sauce becomes the topping, and while a scoop of vanilla ice cream would make for an ultimate experience, this pudding cake is utterly delicious on its own.
Katzen notes that Chocolate Eclipse tastes best about an hour or two after it has emerged from the oven, but waiting this long will take some serious meditation. And you don't have to. Try refraining for at least 30 minutes, then tuck in.
Continue Reading in next page