This Chicken Stew recipe is easy, hearty, warm, nourishing comfort in a bowl and SO good you'll want to make it again and again! The Chicken Stew is loaded with juicy chicken, buttery potatoes, hearty carrots and celery, fresh green beans and aromatic onions, garlic and herbs swaddled in a rich, cozy gravy-broth. It's a hypnotic tapestry of flavor and texture in every spoonful. This easy Chicken Stew recipe is also extremely versatile and pantry friendly – swap the chicken for ground beef or sausage, swap veggies or add more favorites, make it creamy, brothy or stew-like (all variations included). It also make ahead friendly (tips and tricks included) and stores and reheats beautifully!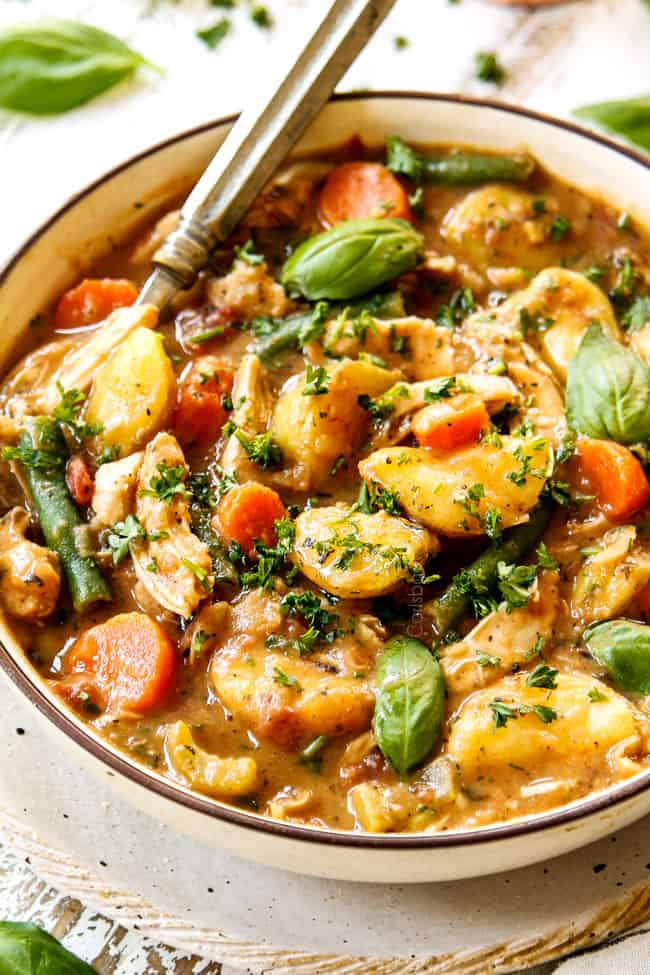 How to Make This Easy Chicken Stew
STEP 1: SEAR CHICKEN:
Pat chicken dry with paper towels; sprinkle with salt and pepper. Drying the chicken allows the seasonings to stick. Allowing the chicken time to rest while you prep the veggies helps the seasonings penetrate the chicken.
Sear chicken in a large Dutch oven/ soup pot until golden, about 2 minutes per side. Remove to a plate but leave drippings.
STEP 2: SAUTÉ VEGETABLES:
Continue Reading in next page