This Sriracha Lime Grilled Chicken Salad is bursting with flavor. Spicy grilled chicken, sweet and juicy grilled pineapple, crisp lettuce, tomatoes, avocado, and a sweet and tangy lime vinaigrette.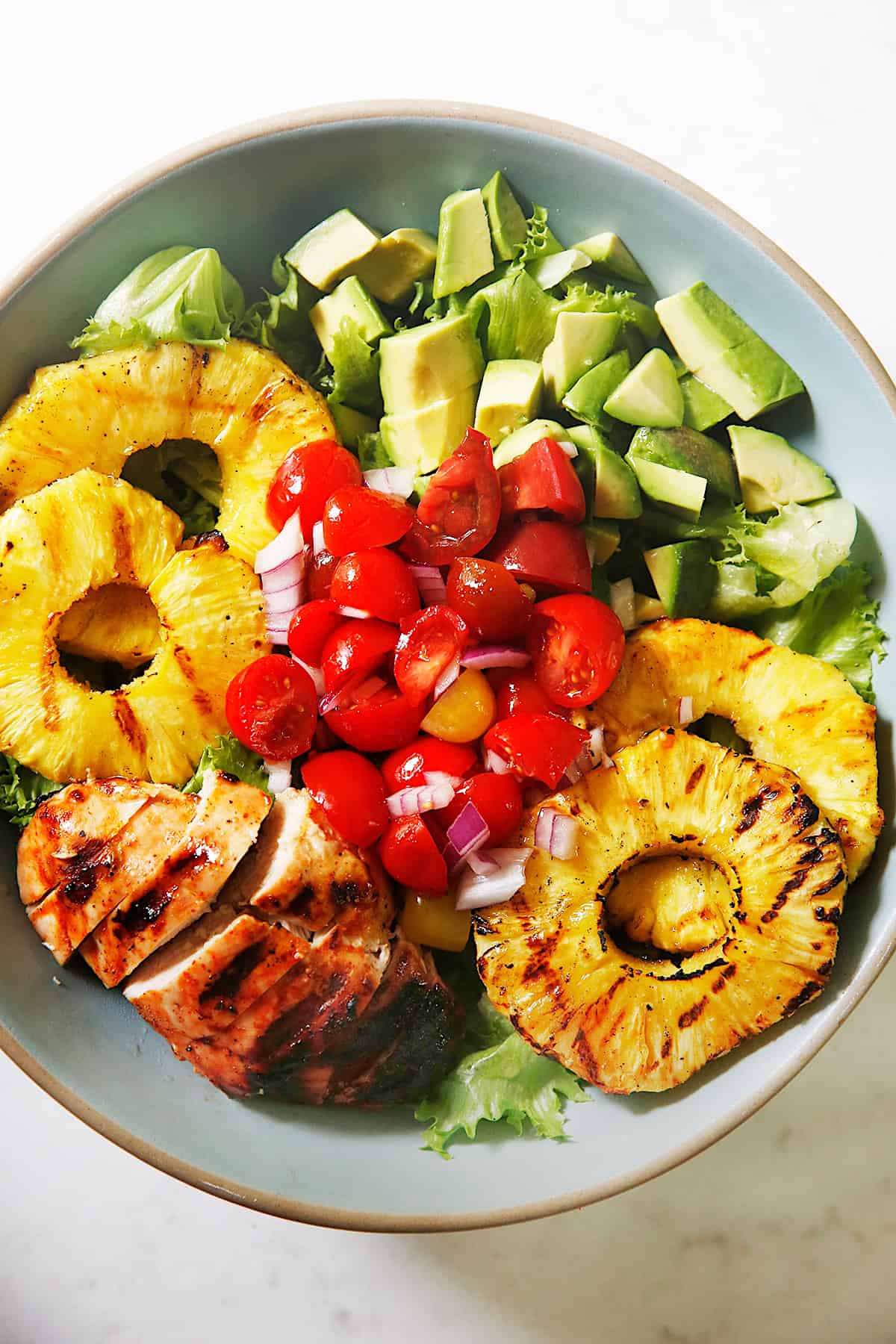 My Favorite Grilled Chicken Salad Recipe
This Sriracha Lime Chicken Salad Recipe is one of the most popular recipes on the blog since 2014, and the first viral recipe on LCK. And for good reason! It's simple, flavorful, and topped with deliciously bold grilled chicken.
A little spice, a little grilled sweetness… soft, crunchy, hot and cold…this salad is the perfect dinner with all the contrasting flavors and textures you could want! This grilled chicken salad is healthy, low-carb, and perfect for summer! It's loaded with fruits and veggies, lean protein from the chicken, and topped off with a simple, good-for-you dressing. Nothing bad here!
Ingredients Needed:
This grilled chicken salad recipe is packed with simple yet flavorful ingredients! Here's what you'll need:
Sriracha Lime Grilled Chicken
Chicken Breasts: you'll need 2 chicken breasts to serve 4 people with this delicious salad.
Sriracha and Lime Juice: you'll quickly marinate the chicken in a mixture of Sriracha and fresh lime juice to add flavor and make it more juicy and tender.
Salt and Pepper: season the chicken with salt and pepper before marinating to give it just the right amount of extra flavor.
The Rest of This Grilled Chicken Salad Recipe
Lettuce: just use your favorite lettuce! I like to chop it up so it incorporates well with all of the other fruits and veggies.
Pineapple: grilled for a sweet and smoky flavor and insanely juicy texture. I use a pineapple corer to make the slices just the right size.
Tomato: I use halved grape tomatoes.
Red Onion: since red onion has a pretty strong flavor, I recommend chopping it up pretty small so you don't get way too much in each bite.
Avocado: chopped avocado adds delicious creaminess and provides another source of healthy fat.
Quick Lime Vinaigrette: we're making a simple lime vinaigrette with olive oil, apple cider vinegar, lime juice, raw honey, and a sprinkle of sea salt.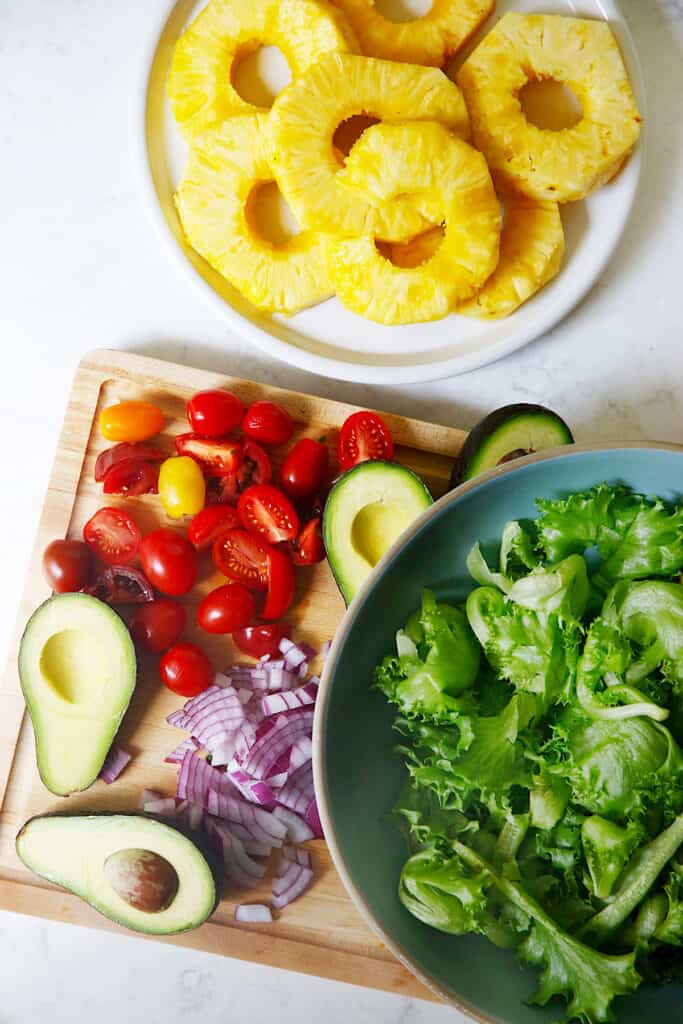 How to Make a Great Grilled Chicken Salad
This Grilled Chicken Salad Recipe comes together in just 25 minutes! Just prep your ingredients, grill your chicken and pineapple, and mix everything up!
Marinate the chicken: Heat the grill to medium heat and season the chicken all over with salt and pepper. In a dish, mix sriracha and lime juice, then add in the chicken and marinate for 20 minutes minimum.
Grill: Grease the grill, then add the marinated chicken on. Cook until 165ºF. Meanwhile, cut the pineapple and add that to the grill as well. Cook for 3-4 minutes each side.
Prep the salad and dressing: Chop and dice the remaining salad ingredients and mix together all of the dressing ingredients.
Assemble and serve: Pull the chicken and pineapple off the grill, rest for a couple of minutes, then slice, assemble your salad, and dig in.
How Do You Make a Pineapple Ring Without a Corer?
A pineapple corer is a fun tool to have to cut pineapple, but honestly is a tad wasteful in that it takes off a lot of the pineapple meat! Here's how to make pineapple rings without one:
Cut off the top and bottom of your pineapple.
Cut off the green skin.
Cut into slices.
Use a tablespoon to scoop out the center piece in each slice!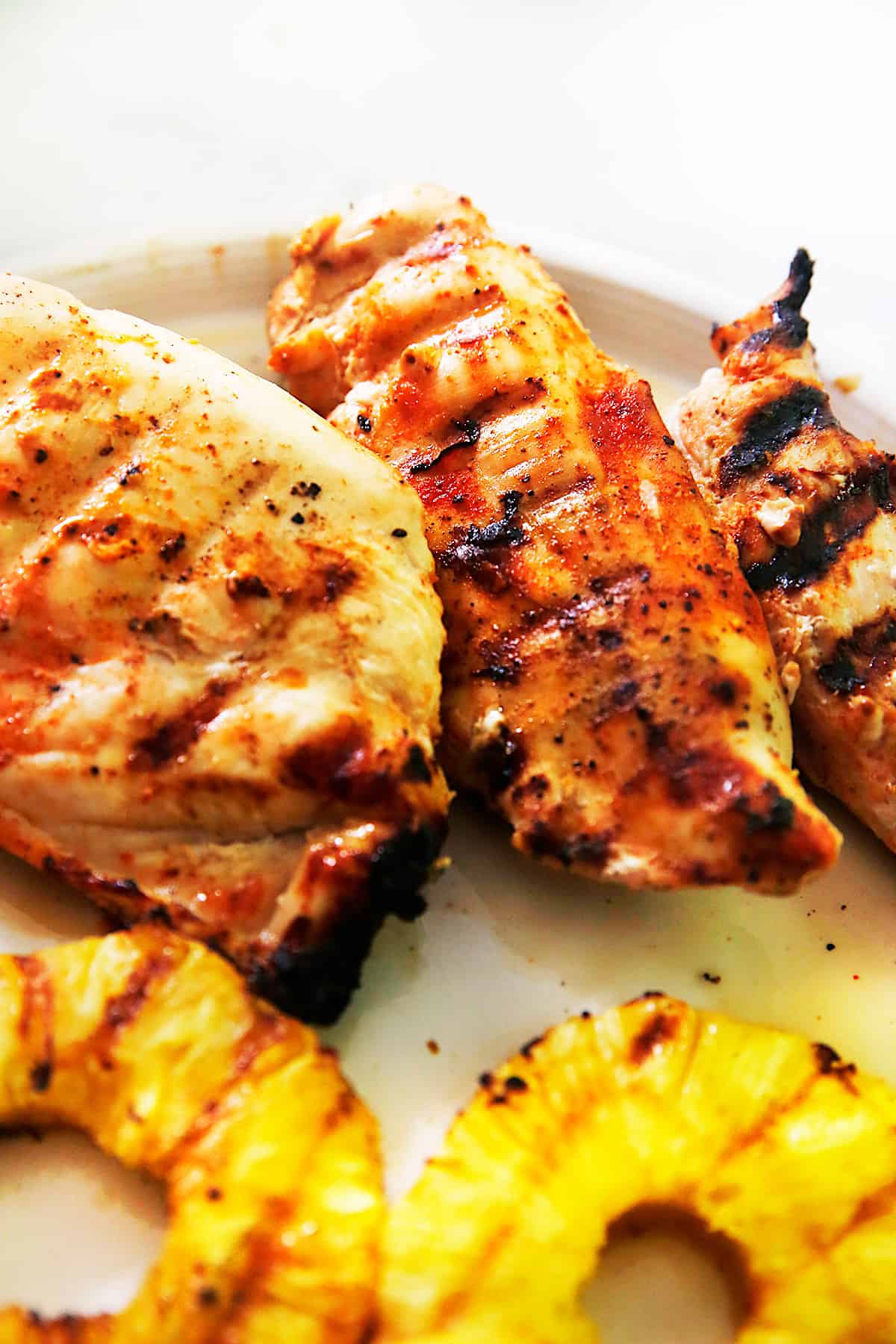 Do You Put Eggs in This Chicken Salad?
Continue Reading in next page