THIS RECIPE FOR CHICKEN STEW IS THE ULTIMATE COMFORT MEAL
This Chicken Stew recipe is easy, hearty, warm, nourishing comfort in a bowl and SO good you'll want to make it again and again! The Chicken Stew is loaded with juicy chicken, buttery potatoes, hearty carrots and celery, fresh green beans and aromatic onions, garlic and herbs swaddled in a rich, cozy gravy-broth. It's a hypnotic tapestry of flavor and texture in every spoonful. This easy Chicken Stew recipe is also extremely versatile and pantry friendly – swap the chicken for ground beef or sausage, swap veggies or add more favorites, make it creamy, brothy or stew-like (all variations included). It also make ahead friendly (tips and tricks included) and stores and reheats beautifully!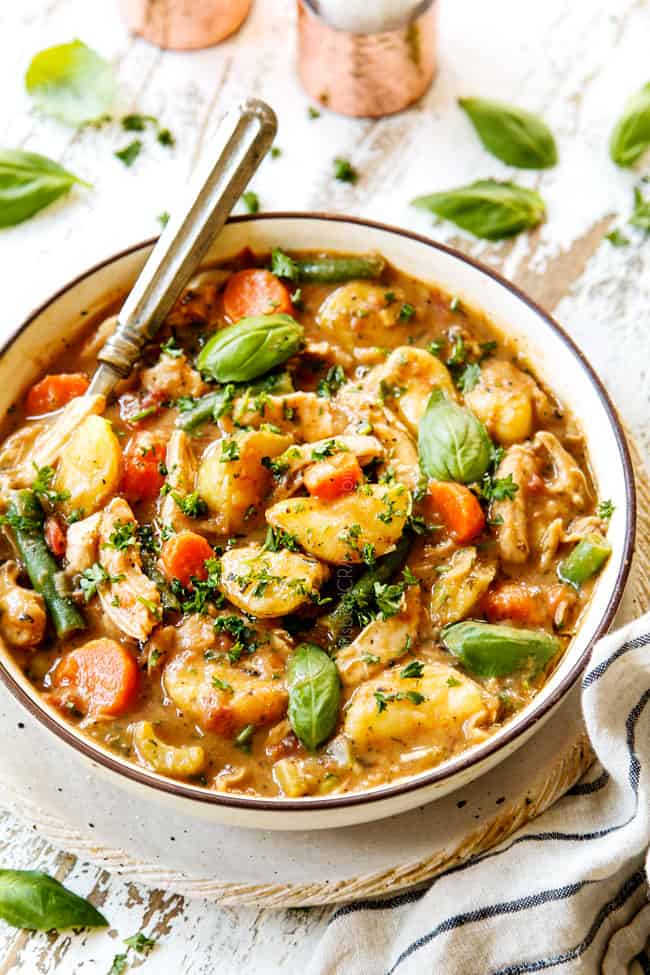 THIS CHICKEN STEW RECIPE IS THE NEW FAMILY FAVORITE
This Chicken Stew recipe is an old comforting classic waiting to become a new family favorite! There simply isn't anything more comforting than a big bowl of hearty stew. It's like curling up with your favorite cozy blanket that warms you from the inside out with every heaping slurpful. Even your pickiest eater will fall in love with this stew and be clamoring for more!
WHY YOU'LL LOVE THIS CHICKEN STEW RECIPE:
DELICIOUS! This Chicken Stew recipe is a warm, savory symphony of juicy chicken, tender veggies and layers of complex aromatic flavor swaddled in rich, herb infused broth. The stew is seasoned to perfection with hand-picked seasonings of oregano, parsley, basil, thyme, paprika and cumin that will fill your home with the savory aroma of anticipation.
THICK AND CREAMY. This Chicken Stew is lusciously thick from the combination of both a roux and cannellini beans. The beans become one with the broth as they simmer, breaking down and creamifying the soup. You can also customize the consistency of the stew by making it less thick or more creamy.
NO CREAM SOUP. To that end, this Chicken Stew recipe doesn't use any mystery "cream of" canned soups but still emerges rich, creamy and flavorful.
PANTRY FRIENDLY INGREDIENTS. The ingredients for this Chicken Stew recipe are simple, inexpensive and you probably have almost all of them on hand. This recipe can also be made with any chicken you have on hand from chicken thighs to chicken breasts to rotisserie chicken.
EASY & EFFECTIVE SHORTCUTS. This homemade Chicken Stew recipe utilizes a few easy shortcuts to make it easy enough to make on a weeknight, without skimping on flavor. Chicken Stew from scratch starts by simmering a whole chicken. To minimize prep and cook time, this recipe utilizes quick-cooking, flavorful chicken thighs. It also uses store-bough chicken broth in place of homemade chicken broth spiked with chicken bouillon and seasonings to create complex layers of flavor.
PREP AHEAD. The most time-consuming part of this stew is trimming the chicken and chopping your carrots, celery, potatoes, onions and garlic. Fortunately, all this prep can be done ahead of time and it's a great way to get your kids involved.
MAKE AHEAD. This Chicken Stew can be made in the morning or days in advance because it tastes even better the next day!
Continue Reading in next page