Tom Kha Gai is one of the easiest, quickest, yet most FLAVORFUL soups you will ever taste! It is light yet creamy, sweet yet tart, salty and citrusy and bursting with layer upon layer of fantastic flavor. This Tom Kha Gai recipe is naturally gluten free and can be made vegetarian and vegan as well. Its rich, complex broth is made with coconut milk, lemongrass, ginger or galangal, garlic, chiles, lime juice, fish sauce and cilantro along with tender chicken and mushrooms. It can be served as a main course or appetizer, with or without rice, reheats beautifully and is belongs on your table TODAY!
TOM KHA GAI – PERFECT FOR A SPECIAL OCCASION!
This Tom Kha Gai, otherwise known as Chicken Coconut Soup is one of favorite soup in the world. The world I tell you.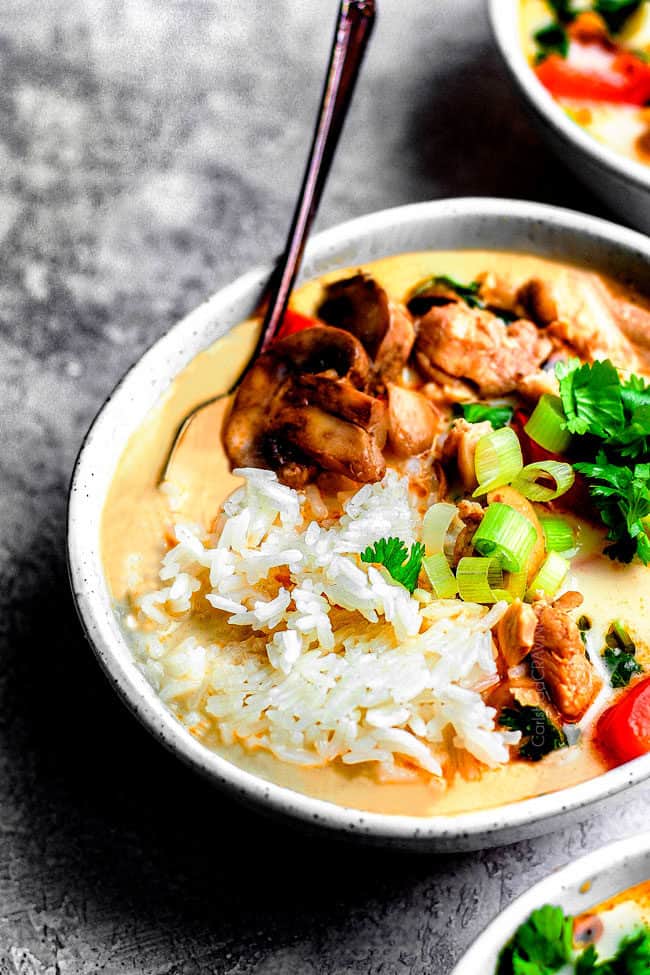 Every special occasion – college graduation, birthdays, lung transplant anniversaries, etc., its tradition to celebrate at my favorite Thai restaurant. After a decade of ordering Panang Curry and Pad Thai and sampling everyone else's dishes, I still remained faithful to my Panang Curry, nothing else tempted me. Then one fateful day, some of our friends ordered Tom Kha Gai and my world was changed forever. I cannot believe I missed out on this heaven in a bowl for so long!
WHAT DOES TOM KHA GAI MEAN?
Tom Kha Gai is a popular Thai soup known for its intense galangal, coconut aromatic flavor. The literal translation is "boiled galangal chicken" but can be broken down as: TOM means SOUP or BOILED/COOKED, KHA means galangal root and GAI means chicken.
Galangal is part of the ginger root family and looks and tastes quite similar, but with a more intense, peppery, pungent flavor.
Continue Reading in next page