This Tri Color Pasta Salad is a quick and easy rotini pasta salad that is great for picnics and potlucks! We especially love making this tri colored pasta salad when entertaining or bringing food to family and friends.
THIS TRI COLORED PASTA SALAD IS A FAMILY FAVORITE RECIPE!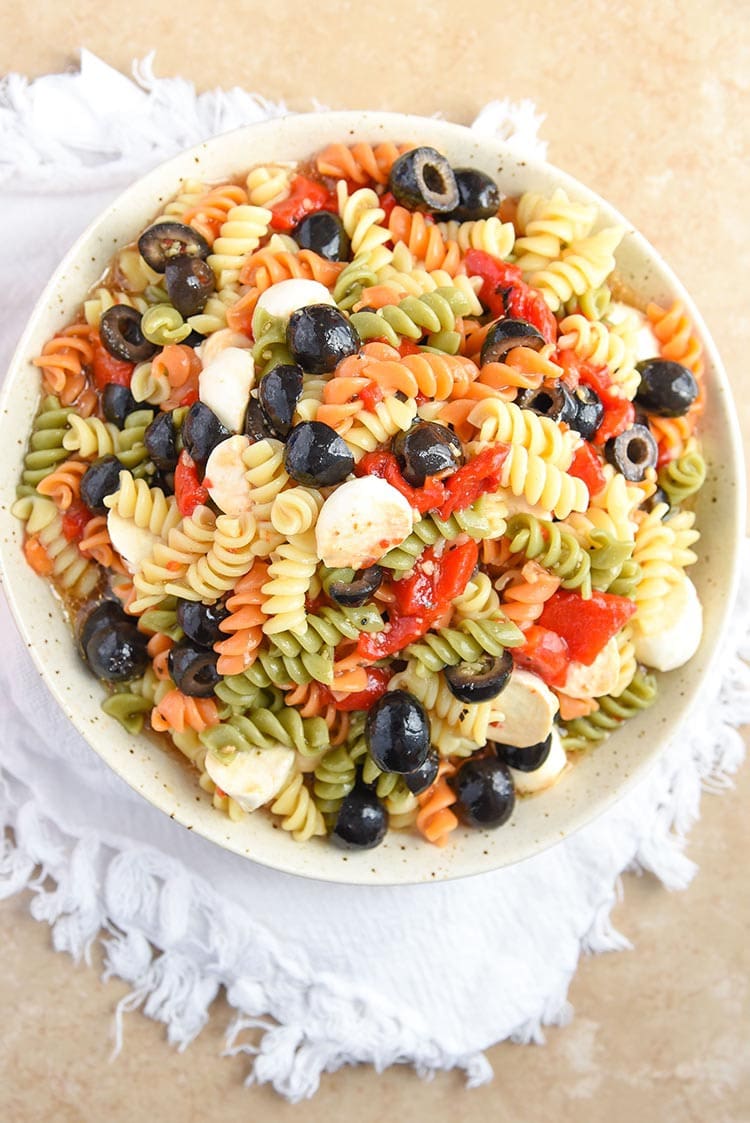 I grew up eating tri colored pasta salad, each bite is filled with memories! It's a really simple recipe and my Mini Chef is excited to show you how to make it. It's a great kid friendly recipe to show kids how to prepare recipes for big gatherings.
HOW TO MAKE TRI COLOR PASTA SALAD
First, let's start with the essentials and options for making our tri color pasta salad recipe and how you can make the best tri color pasta salad recipe
tri color pasta – colorful pasta salad is so much more fun and when you use the tri color pasta you get green, orange and yellow. you can use plain pasta, but the tri colored pasta does have a different flavor that most know and love. We make ours a tri color rotini pasta salad, but if you find other pasta shapes you can use them for this pasta salad recipe too.
roasted red peppers – they're full of flavor and a great addition to this salad. you could also add hot peppers. read how to roast red peppers
olives – the olives give it that tang and they're an absolute must in this recipe, we used canned black olives and like the way the black olives work in this recipe. there's a big difference between green and black olives when it comes to flavor so make sure you use black to get the same delicious results.
Continue Reading in next page