This Turkish Flatbread recipe will help you make easy no knead soft Bazlama in less than one hour with only five basic ingredients.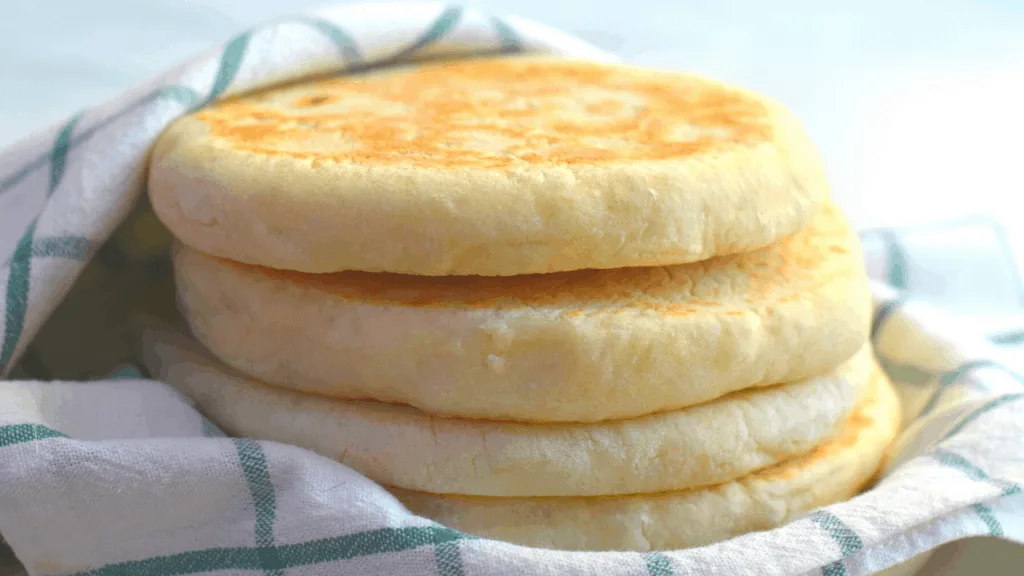 Bazlama is Turkish Flatbread which is soft and delicious and also called village bread ,that is mostly cooked in the special designed outdoor rock ovens since centuries at Turkish culture.
We can also cook this flatbread in a cast iron pan or a heavy bottomed pan on stove top or over wood fire.
What you will love about this Turkish Flatbread Recipe
In this Easy Turkish Flatbread Recipe we use only five basic ingredients
We don't need to knead the bread dough and so it is so easy to make this Turkish flatbread.
We can bake and enjoy this wonderful Turkish bread ,Bazlama in less than 1 hour.
This Turkish bread is soft, delicious and it has a chewy texture
Bazlama,Turkish Flatbread Ingredients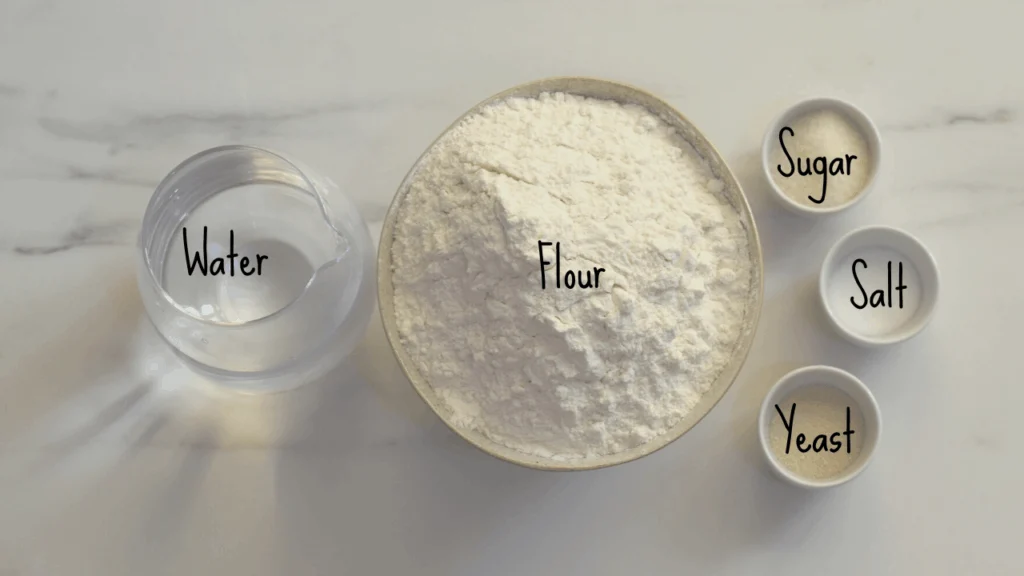 Flour :390 gor 3 cups loosely packed
Water :312 ml or 1 and 1/4 cup+1 tbsp
Salt :1 tsp or 6g
Sugar :1 tbsp or 12.5 g
Yeast :1 and 1/2 tsp or 4.5g(If using Active Dry yeast use 2 tsp)
How to make this Turkish Bread, Bazlama
In this Turkish flatbread recipe, we are making it in five simple steps.
Prepare the dough
First Proofing (30 minutes)
Divide and shape into round Balls and then roll out to form dough discs
Bake the Bazlama or Turkish flatbread on a preheated skillet.
1.Prepare the dough
In this No Knead Bread Recipe we are making the bread dough in a very simple and easy method.
Pour in the lukewarm water in to a bowl.
Then add the sugar,salt and yeast.
Stir and Mix until the ingredients dissolve.
Add the flour and combine them all together to form a shaggy mass of dough.
Make sure there are no dry patches left behind.
2.Proof the dough
Now cover the dough and let it rise for 30 minutes.
3.Divide and shape the dough
After 30 minutes, pull and stretch the dough from all four sides.
As the dough is very sticky to handle ,Dip your hands in water to prevent any chance of dough sticking to your hands.
Divide the dough into four equal halves.
Shape each of them into round balls.
As the dough is very sticky dust it with enough flour so that we can work smoothly.
Work less with this sticky dough while shaping it into ball so that we can handle it well.
Take the first one that we shaped into ball and cover the rest.
Flatten the dough ball to form a flat round disc of approximately 16-17 cm in diameter and 1 and 1/2 cm in thickness.
Take it onto the preheated pan.
Continue Reading in next page