For Best results use heavy bottomed pan like cast iron skillet.
The one I have use is 10.5 inch Lodge Cast iron Pan which is great for making Flatbreads and pan pizzas.
4.Bake the Turkish bread, Bazlama on stove top.
Heat a heavy bottomed cast iron pan over medium heat and place the rolled out dough on it.
Turn it over after around 1 minute when it starts to puff up on top and cook the other side.
Turn it again (after 1 and half -2 minutes) and repeat this for a few times. It will be done in approximately 6-7 minutes.
Transfer it on a tea towel and cover with another tea towel. Repeat for the remaining flattened dough circles.
Note :As this Turkish Flat Bread ,Bazlama is a very thick flatbread, we need the inside of bread to be well cooked.So We need to Cook it over low to medium heat.
When I first made this Bazlama,Turkish Flatbread, the bread turned out to be doughy in the middle.The reason was, I cooked it on a little high heat and the out side turned brown faster and the inside remained uncooked or undercooked.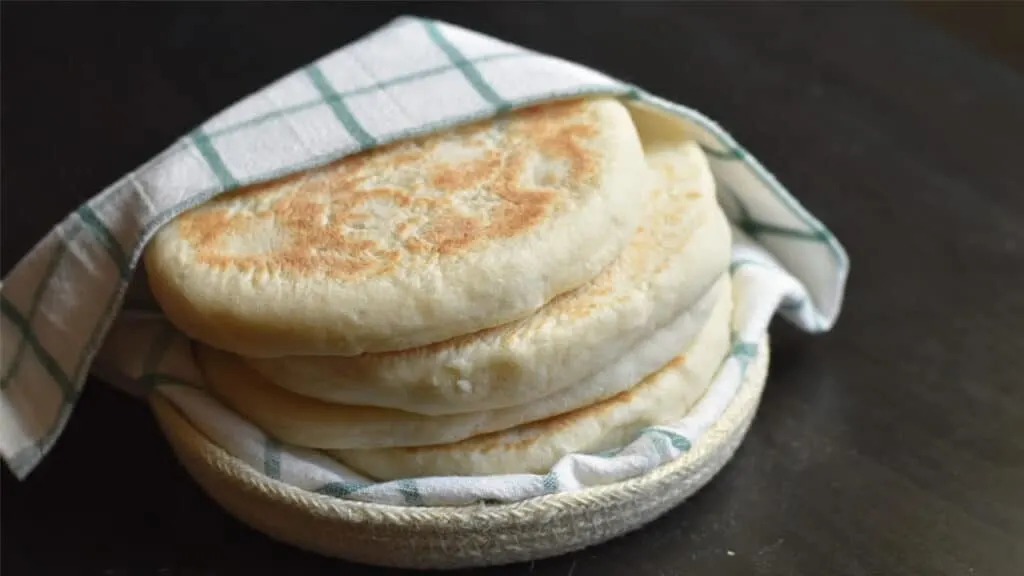 How to eat bazlama,Turkish bread
There are so many different ways that we can have this Turkish Flatbread.
Bazlama,can be eaten for breakfast with butter or olive oil.
It can be stuffed with herbs, roasted meat and cheese and then grilled and can have as delicious sandwich.
We can use them as wrap as they are very soft and flexible.
Bazlama is also best to have with some dips like Hummus or tzatziki sauce, when cut into wedges.
Make flatbread pizza. Just add toppings and bake for 5-8 minutes in a 450˚F oven.
Brush each hot flatbread with oil, then top with parsley and chili flakes.
Spread some peanut butter and a drizzle of honey for a delicious snack.
Just slice open the Bazlama and spread one side with tomato ketchup and the other side with with some mayonnaise and then with some shredded chicken and lettuce.Close and slice it into four equal parts and enjoy delicious restaurant style sandwich.
Stuff with scrambled eggs and bacon for breakfast flatbreads.
Spread the bread with a melted butter and mince garlic with herbs while it is still hot.This makes the bread even softer and can bring a flavor and taste very similar to a garlic naan.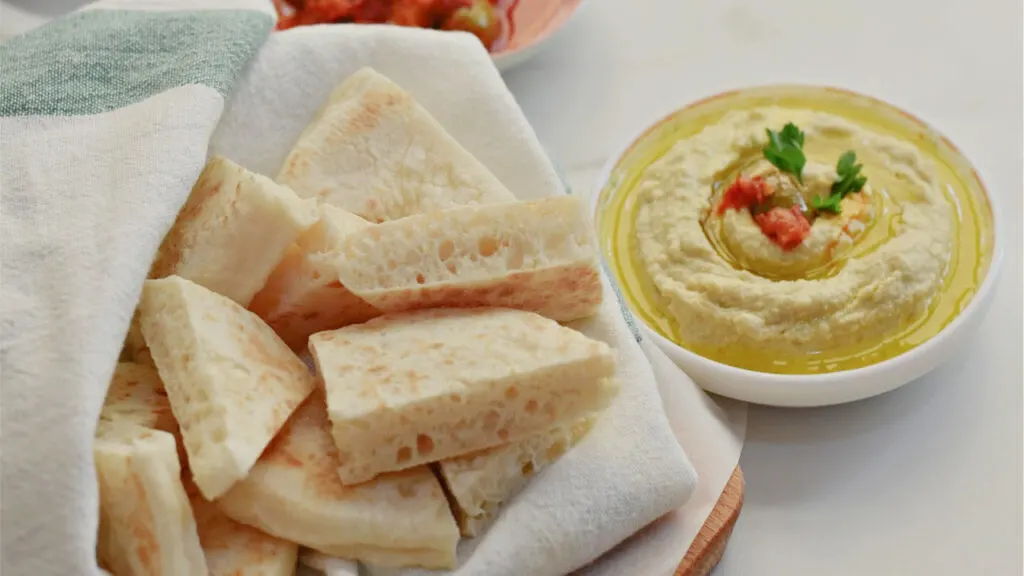 Why My Bazlama,Turkish flatbread turned out doughy in the middle
As Bazlama is a thick flatbread, if we bake them on stove top in a really hot preheated cast iron pan, the top will burned too fast and the center will not get cooked properly.
So cook it over medium heat so that the center of the bread get cooked completely.
Let the bread sit for 3-4 minutes after cooking and before slicing.Thus the entrapped steam can cook the bread completely.
Can I make this flatbread dough ahead of time
Yes you can make this Turkish bread dough ahead of time.
Continue Reading in next page