This breaded Zucchini Parmesan is fried until crispy and baked in a casserole dish with layers of marinara sauce and mozzarella cheese.
Have more zucchini in your garden? Try my creamy zucchini soup and eggplant rollatini next!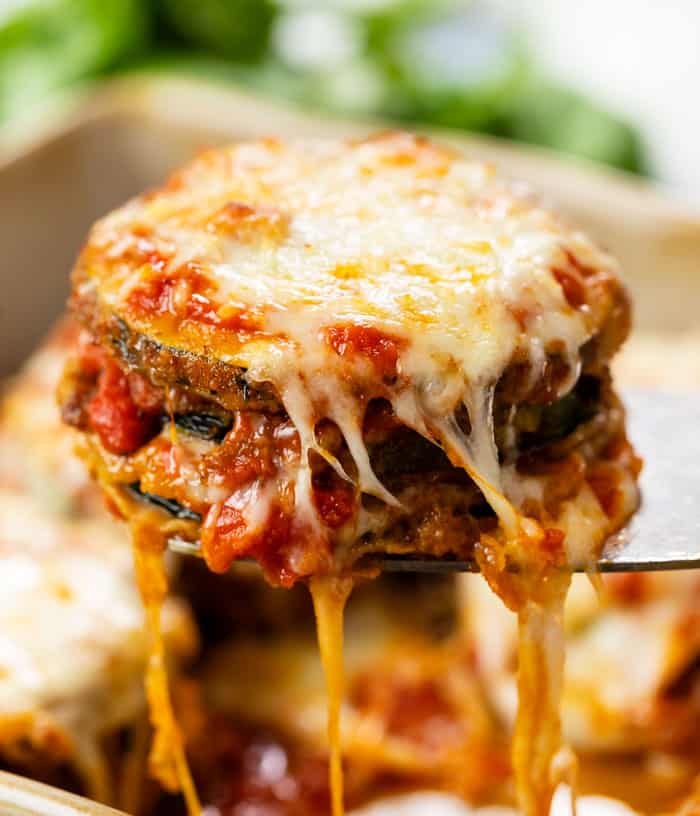 Zucchini Parmesan
This is definitely one of my favorite ways to make use of garden zucchini during the summer. The preparation takes a little bit of time before you assemble it in the casserole dish and bake it, but the effort is SO well worth it.
I prefer to fry the zucchini prior to baking it in the casserole dish with cheese and marinara, but I do have instructions in the recipe card notes if you want to bake or air fry it instead.
Be sure to check out my Pro Tips below where I share some key advice that I learned during my testing efforts for this recipe.
Should You Salt Zucchini Before Cooking?
– Zucchini is 95% water. Salting them extracts a lot of this moisture which gets absorbed by paper towels on the top and bottom of the zucchini rounds.
– This makes a huge difference between having firm, sturdy bites of zucchini, vs. a limp and watery consistency.
– Let them sit for at least 30 minutes after salting to allow the maximum amount of moisture to get extracted. I usually let them sit for 1.5 hours if time allows.
How to Make It
Continue Reading in next page